It's time for the cover reveal of my latest picture book, WUTARYOO! I didn't know where to do a cover reveal, so I decided to post it on my blog. You probably didn't know before now that I had a blog.
….
Anyway, let's talk about Wutaryoo!
"Wutaryoo is tired of not knowing who she is or where she came from. Inspired by her friends' fantastical origin stories, she sets off on an adventure of a lifetime that will help reveal her true history. A heartwarming and relatable new picture book about telling your own story and finding your own truth, perfect for kids and recent graduates."
As a Black American, there was this idea that formulated in my head and I was slowly turning over for a long time. It was the sense of being something of a cultural orphan. My ancestors had been brought to North America so long ago that we no longer have ties to Africa. We have no family there, no nation; I couldn't even tell you what region we're from. I am both African and not. And yet, our journey to the Americas was an act of violence. Colonizers here–foreigners themselves–think nothing of telling us to go back to our own country (which is what, exactly?) while occupying stolen land. America has never embraced me, and yet it is the only home I know.
And so, for years, I was struggling with this thought, wondering what to do with it. At the same time I was trying and failing to come up with a picture book to follow How to Find a Fox. And one day, Wutaryoo popped into my head, fully formed.
It has been a difficult journey for this book! Myth stories are hard to sell, I've been told. Some people connected with the story deeply, while others could not understand what I was trying to do. In the end, Erika Turner at Versify/HMH fell in love with it and made an offer. Versify is the imprint of Kwame Alexander, another Black author who once found himself contending with an industry that did not understand his work. It was truly a blessing for this book to land at a publisher that understood the struggle for one's story to be understood and embraced.
As the writer and illustrator of this book, it's my job to come up with the words as well as the images. That includes the cover art!
My first step in an illustration is to do thumbnails: small, simple sketches in which I work through composition ideas. This is the moment when I have to come up with a singular image that encapsulates the entire story.
The fact that none of the animals Wutaryoo meets can quite identify her is a big theme in the book. For the cover, I wanted to convey some of that mystery and curiosity around what is Wutaryoo. I wanted the cover to be a question.
Something I'm thinking about as I'm thumbnailing the cover is how it reads small, or at a distance. When you enter a bookstore and are looking around at the shelves, the cover design should compel you even from far away. So in the thumbnail stage, that means bold blocking of shapes and room for a big, legible title.
I shared my thumbnails with the editor and designer. They picked three compositions they liked for me to refine and share at their meetings. All three covers they selected juxtaposed Wutaryoo with her animal companions.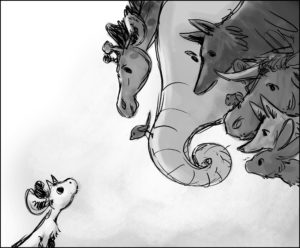 I was drawn (heh, "drawn") to the image of Wutaryoo separated from the other animals, standing apart as they looked down at her curiously. Wutaryoo's journey in the book has her contending with this deep sense of separation and loneliness, and questing for an identity that she can call her own.
With a sketch chosen, it was time to illustrate the cover. Here it is, the final result!
It has been a joy working with editors Erika Turner and Weslie Turner, and designers Andrea Miller and Celeste Knudsen on this book.
Wutaryoo is available for preorder! Head to Indiebound to find an independent bookstore near you to place your preorder. And don't forget to recommend Wutaryoo to your local library!