Examples of static print and digital assets I've designed are below. Software used:
Adobe Illustrator
Adobe Photoshop
Microsoft Powerpoint
Brand Assets
These assets are a part of cohesive style development for my business brand.
Logo
Business Card
I illustrated the self portrait for the front of the card.
Invoice Template
Event Art
I've made a number of social media graphics to accompany my appearances at conventions and conferences. These are intended for use on sites such as Twitter and Instagram with square dimensions to work with either platform.
East City Book Reading and Signing
Emerald City Comicon 2018
San Diego Comic-Con 2019
Presentation
Making the Jump from Animation to Children's Books
Presented at Ground Zero Expo 2019.
Product and Merchandise
"Old Bae" Enamel Pin
Product: an enamel pin based on McCormick's Old Bay seasoning, a staple of Maryland homes and restaurants. Sketched a concept of the pin and then finalized the design in Adobe Illustrator. Designed the enamel pin as well as a backing sheet.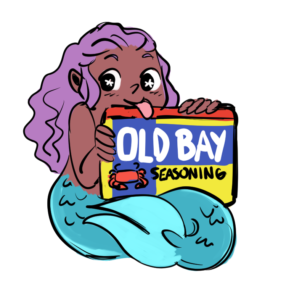 "Pinky Swear" Memo Pad
Product: a palm-size memo pad. Designed cover and interior sheets.